—Tuesday, October 07 2008
Could you imagine, for a moment, what the political scene would be like without the social media giants Memeorandum, Reddit, Twitter, Digg, and Youtube? What about the old media websites that started as an experiment, required a registration and charged for access to content? Yes, it's hard to imagine, but it was only four short years ago that none of these social websites existed and the old media websites were merely second class citizens to their broadcast counterparts. Meanwhile, while we've been caught up in the infinite streams of information, there has been a small, but highly motivated community of hackers opening up government in a whole new way, providing APIs ripe for mashups and experimentation.
The Post-Bush vs. Kerry Boom
It's been a whirlwind of a political season. In 2004, we might never have seen a hoard of angry Redditors opposing the bailout; We'd have to do some real digging to find a video of Jeremiah Wright saying "God Damn America"; We'd be hard pressed to find the speech that was the tipping point for "YES WE CAN" and the subsequent song and video inspired by that speech that went on to win an Emmy. We may have never been able to see Sarah Palin in the Alaskan Gubernatorial Debate in 2006. You can almost conclude that anything that has happened in the last four years of politics can be found online in some form or fashion if your Google skills are up to par.
Unlike today's modern, up-to-the-minute websites, in 2004, old media websites such as CNN, MSNBC, Fox News were not so flattering.
CNN - Nov 5, 2004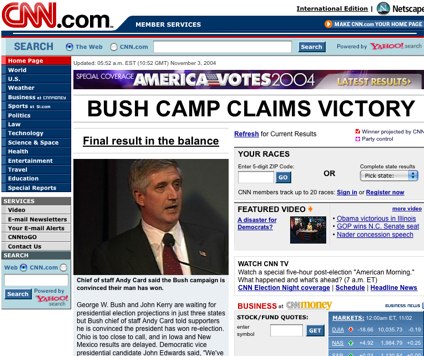 Kudos to those who spotted Obama winning the Illinois Senate
MSNBC - Oct 27, 2004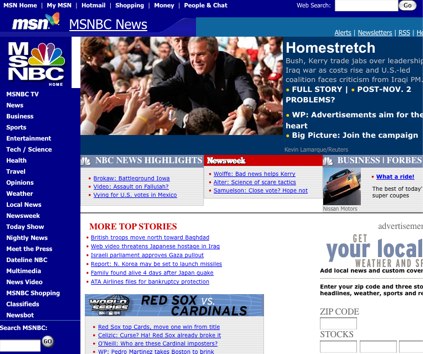 FOX News - Oct 14, 2004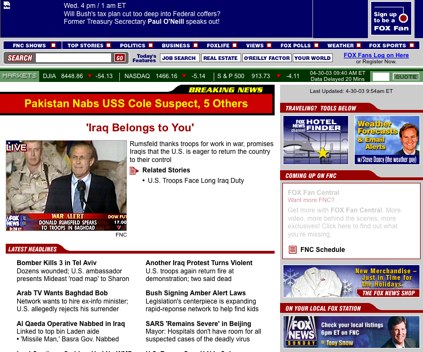 Pioneering the way. Open APIs and Open Source efforts
I must admit, when I started to research Open Source efforts in government, I was skeptical. I haven't heard of much in passing, even given my rationale that tech news will always be accompanied by political news. But, I pressed on and I was soon exposed to a small, but extremely active and knowledgeable community of Open Source hackers and organizations committed to bringing transparency to our government.
Govtrack: The Granddaddy of them all
From my research, Govtrack is the data provider for an overwhelming majority of the websites I found. Govtrack describes itself:
An independent, non-partisan, non-commercial website launched in September 2004, GovTrack.us was the first website whose primary goal was to provide comprehensive legislative tracking for everyday citizens and was the first congressional transparency website to embrace Web 2.0 and principles of open data.
Earlier this year, Joshua Tauberer, the creator and primary maintainer of Govtrack decided to open source the Govtrack application.
Sunlight Foundation: The Incubator
Sunlight Foundation is the YCombinator of the open government movement (in spirit). They give small grants to help fund websites whose mission is to open government and provide transparency in some fashion.
A List of Resources
Open Data & APIs
Mailing Lists
Other Resources